Hectors Story - The Little Dog with Big Ambitions
Hectors Story – The Little Dog with Big Ambitions. Found in 2008, this little stray dog became the heart and soul for our shelters creation.
Sue found Hector, in 2008 on one of the local beaches and just could not turn her back on this little stray dog. Little did she know, Hector was about to turn her life upside down and for the better.
"He was a little frightened but I managed to get him to come to me. As he got closer to me I noticed that he had a huge lump on the side of his face. With great difficulty, I got him into the car and took him to the vet. He was petrified of the car and even more frightened of the vets. Not once did he offer to bite or even growl.
Turns out the lump was an abscess, so the vet made a small incision and proceeded to drain it. Over the next week, this had to be done daily and antibiotics were given. This had to be done by me, as here on the island, you generally have to medicate your animals yourself, rather than travelling to the vets each day. Thankfully my lovely friend Becky (a UK vet nurse) lived here at the time and helped me.
Hector, even though he hardly knew us, was a fantastic patient. Each day we had to re-open the small cut so that we could drain the fluid and clean out the wound and he let us, without so much as a moan…. bless him.
At the time, HHC had not started and I just took care of about 6 dogs on some land near the beach. This is where Hector spent his first two years with us. In those two years, no one showed any interest in adopting him, so I decided to adopt him and he became the namesake for Hectors House Crete.
When he lived down on the beach he used to bark and growl at people, especially men, who approached him, but he was all 'noise and no knickers'. He never tried to bite anyone and when you took him for a walk he was like a speeding bulldozer…
After moving to HHC Hector really changed his nature, he became loving and affectionate and just loved to meet new people.
We have told many stories about him over the last couple of years… his HHC jumper… kissing Titch… and October of 2013, his battle with paralysis…
Hector is buried on some ground outside HHC where he can watch over all his friends. The day after we buried him all the Anemones flowered around him. Trust Hector not to be pushing up Daises but Anemones instead!
When we were burying Hector, Mick a volunteer and friend said a little poem…
Here lies Hector
Small and Sweet
The Happiest Dog
To live on Crete
This made me smile on a very sad occasion, thanks Mick.
Goodbye lovely Hector, you will never be forgotten by us all at Your House Crete.
Enjoy running over the Rainbow Bridge with Titch, Yia Yia, Molly and Oleander".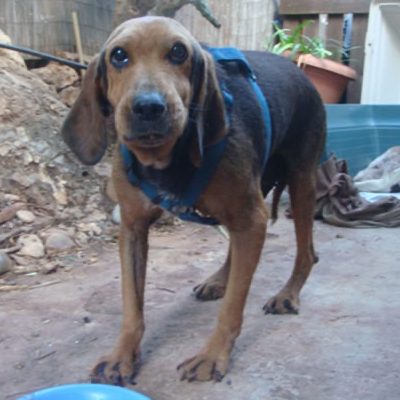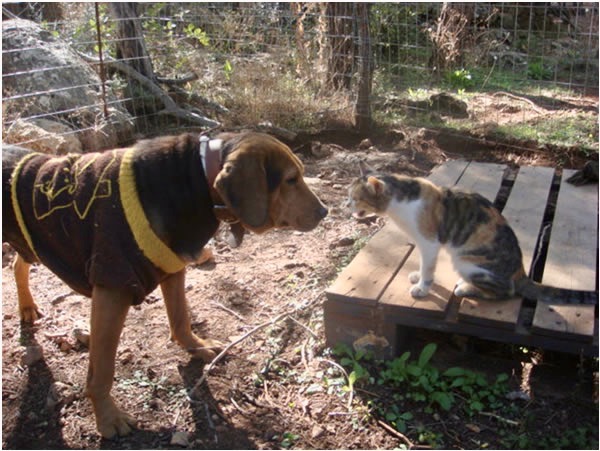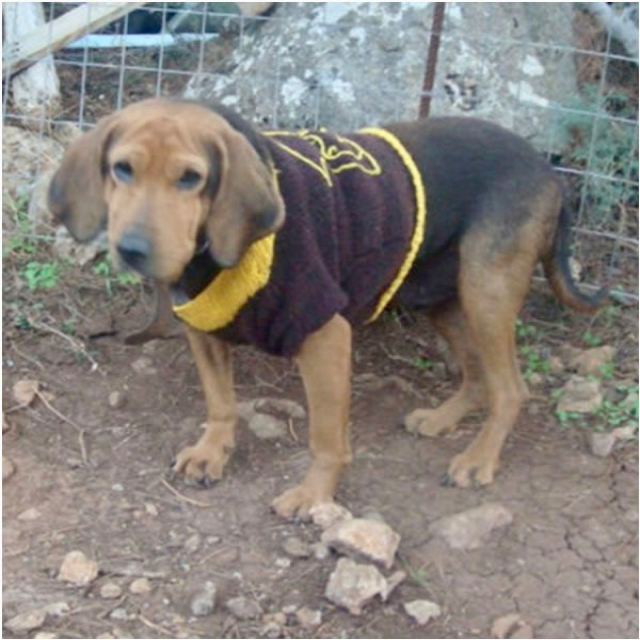 Thank you for your interest in helping the animals of Hectors House Crete. Between feeding, providing shelter, veterinary assistance and upkeep, our monthly expenses run into the thousands of € Euros.
Your donation support is greatly appreciated.