About Us – My name is Sue Hawkins and my partner's name is John Wells. We are both from England and both moved to Crete (although separately) in 2005.
Together we began to build Hectors House Crete in July 2010. Previous to this I spent two years looking after strays on some land near one of our local beaches and with the help of Friends of the Animals Elounda and Mirtos Animal Project these dogs were re-homed in Holland.
We now re-home dogs and cats with the help of our friends Ambers Hope, but are always in need of other organisations to assist with our European adoptions.
You Have the Power to help save the Dogs & Cats of Crete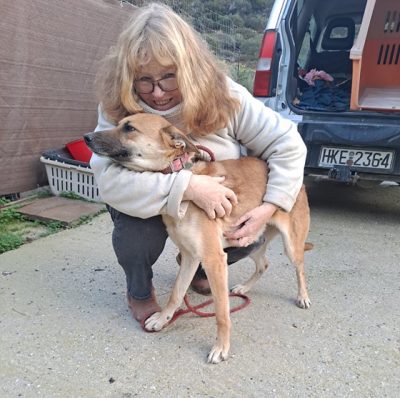 Sue is originally from Halifax, Yorkshire, in the United Kingdom.
"We had dogs and cats when I was growing up and I just loved animals…..more than people I guess. Before I came to Crete I was an accountant, but I am much better now".
"As a child, I always wanted to work with animals but life changes things. So when I moved here and saw the problems I could not turn a blind eye to it all and set about doing whatever I could to help".
For the protection of our animals and the security of the Hectors House Crete shelter, this is not our actual pin drop location (for guide purposes only).
A visit to the shelter is by invitation and in the company of Sue or one of our volunteers.
To arrange a visit, please feel free to reach out to us:
Thank you for your interest in helping the animals of Hectors House Crete. Between feeding, providing shelter, veterinary assistance and upkeep, our monthly expenses run into the thousands of € Euros.
Your donation support is greatly appreciated.